HCM CITY For Trần Ngọc Dũng, the traditional fish sauce of VIệt Nam has not received the respect it deserves.
Present in every Vietnamese home, fish sauce has been closely tied to the country's culinary and cultural customs for three centuries.
"I want to restore the brand name of Nước Mắm Tĩn (Fish Sauce in Pottery Jars)," says Dũng, who grew up in Bình Hưng fishing village in Phan Thiết City.
His family once made traditional fish sauce in Phan Thiết, located in the south-central coastal province of Bình Thuận.
Known as the cradle of fish-sauce making in the country, the city has been producing the amber salty liquid since the early 18th century.
To revive the old traditions, Dũng has opened a fish sauce museum and an art performance dedicated to the craft.
In the old days, the sauce was brewed in large wooden vats and then poured into pottery jars for boat transport on the local Cà Ty River to all corners of the country.
"Storing the fish sauce in these jars preserved the aroma and taste for a long time and made it more delicious," Dũng says.
At that time, the fish sauce industry was so active that many producers became rich and donated money to build streets in the city.
After the end of the war in 1975, however, the industry began to decline.
The pottery jars were no longer available in the market and the producers' prosperous days were suddenly over .
However, today, the traditional fish sauce industry in Phan Thiết accounts for 20 per cent of market share of all fish sauce produced in the country.
In 2016, the Bình Thuận Province's People's Committee approved Dũng's cultural project called Old Fishing Village. Dũng invested nearly VNĐ100 billion (US$4.2 million) in the project.
Construction on the museum began the next year and was completed in May.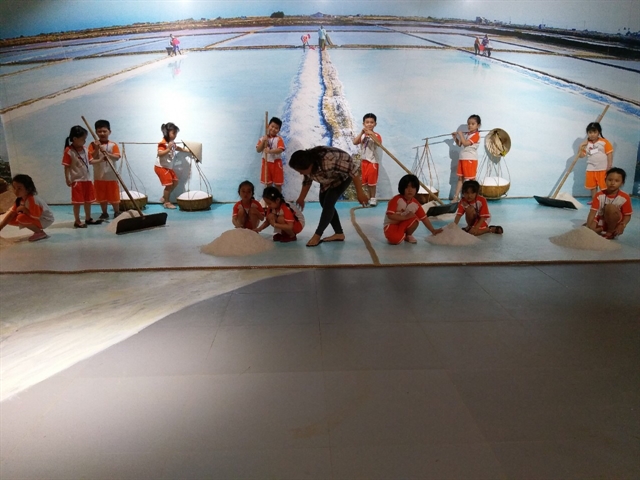 Returning home
In 1993, when Dũng scored the highest mark on the entrance exam to HCM City University of Economics, he received a scholarship to study for a bachelor's degree in Australia. After that, he earned a doctorate in bahaviour and psychological research in France.
Then he returned to HCM City and founded a market research company. After 10 years of success, he sold it and returned to Phan Thiết.
Dũng says his experiences abroad exposed him to many different cultures and museums. During his years abroad and business trips to other countries, he learned that local cultural values and modern performances could become tourist attractions.
"I visited museums and cultural shows in many countries," Dũng says.
However, attracting investment to cultural projects is difficult because the profits are not high. "But my passion allowed me to be patient," he says.
For his project in Phan Thiết, he first developed the Fisherman Show, which is about a Vietnamese Kinh fisherman and ethnic Chăm woman.
The show features local customs and culture such as dances that respect the Shiva God at Poshanu Tower, highlights of the Kate festival of the Chăm and the God of Whales festival with a traditional praying song at Vạn Thủy Tú temple.
Professional contemporary dancers perform and local musicians play traditional instruments and sing on a four-storey stage with water effects, flying equipment, LED screens, flying sand dunes, oxen and carts.
To understand the stories in the show, tourists can first visit the fish sauce museum located nearby.
Read more: Renovation plans proposed for old church